Furniture Upholstery Cleaning Services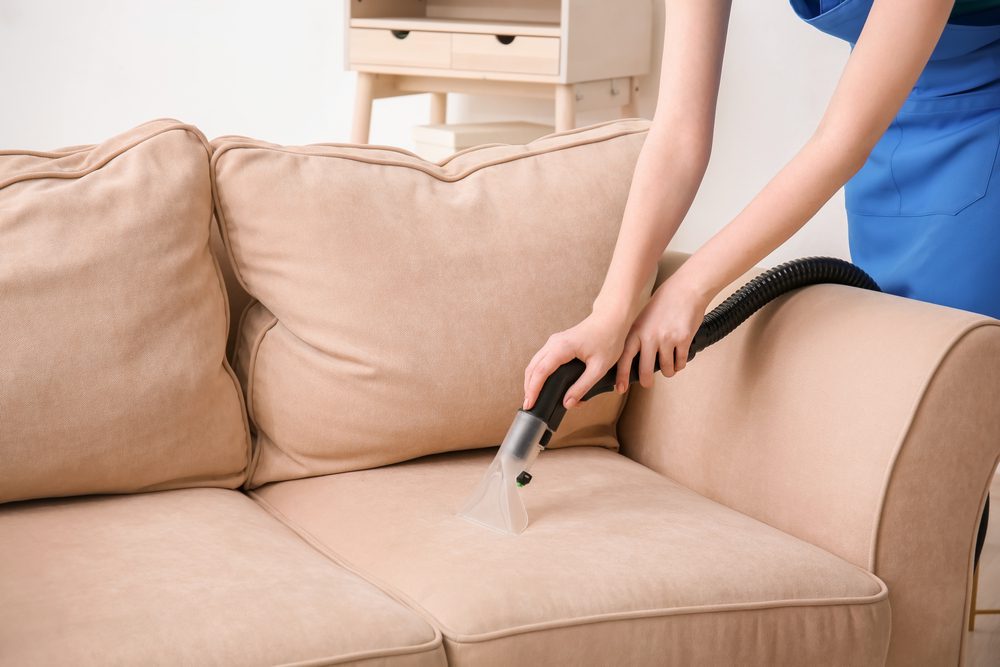 While some people find cleaning to be incredibly relaxing and enjoyable, others find it stressful and tiresome. Regardless of what side of the spectrum you're on, you're still likely to be left unsatisfied with the end result. No matter how many times you try, there are just some hard-to-clean areas that conventional cleaners cannot tackle, leaving you feeling like you're caught between revolving doors. If you've ever felt this way, you've probably resorted to the popular "cleaning" method that simply places items in a less obvious area. When it comes to furniture, however, finding an inconspicuous spot might be a challenge. Luckily, our professional cleaning company has the solution you've been looking for. Sir Carpet offers extensive upholstery cleaning services around Maricopa County in Phoenix, AZ that will allow you to both utilize and show off your favorite furniture pieces.
At Sir Carpet, our cleaning services will liven up your favorite pieces, all while adding years back to their appearance. No stain is too tough, and no dirt is too deep — our professional cleaning technicians are unrivaled contenders equipped to fight to the end. When faced with odorous and stubborn stains caused by pets, our cleaners know just what to do. They have the experience and knowledge needed to lift various forms of impurities by using hot water extraction.
A Superb Cleaning Method That Works
Our furniture upholstery cleaning services include cleaning methods often rely on hot water, rather than harsh chemicals, making it ideal for a wide range of upholstery fabrics. Most people use "steam cleaning" and "hot water extraction" interchangeably; however, both of these processes are quite different. Steam is actually produced as a result of hot water extraction, though it's mainly hot water and not pure steam. Our high-pressured tools work deep into the fibers of the upholstery to loosen up grime, dirt, and stains, and then lift the materials from the surface.
Chairs, Sofas, & Furniture — OH MY!
Furniture provides both functionality and aesthetics to your living space. Once your beloved accent chair falls victim to visible scuff marks and harsh stains, it can stand isolated from other pieces in the room. Stubborn stains can oftentimes make you feel as though your only option is to part ways and purchase a brand new chair — but that isn't necessarily the case. Our company offers furniture upholstery cleaning services around Maricopa County in Phoenix, AZ to restore color, comfort, and quality to your favorite pieces.
A Tailored Approach to Upholstery Cleaning
There are a variety of fabrics used to upholster furniture, and when it comes to cleaning, some of them require a tailored approach. Some of the most common types of fabrics used for furniture include cotton, wool, acetate, linen, rayon, silk, and olefin. Our cleaners assess each piece and use appropriate furniture upholstery cleaning services to extract marks and stains that are affecting the appearance of your upholstered furniture.
The professional upholstery cleaners at Sir Carpet use high-powered equipment and products that are strong enough to lift the deepest stains. While our methods use a vigorous approach that is incomparable to household cleaners and machines, it is gentle enough to not damage your furniture. Our cleaners are dedicated to providing nothing less than top-quality services and unparalleled customer satisfaction — after all, a clean home is a happy home.
A Clean Home Is Also a Healthy Home
The fibers of your upholstered furniture contain a number of pollutants. The last thing you want is to be within the comfort of your home, yet regularly breathe in dust, allergens, and bacteria. Since couches, chairs and other soft furnishings are great for absorbing and trapping common household germs and bacteria that settle from the air, they too must be properly cleaned. Our furniture upholstery cleaning services help to reduce the amount of pollutants circulating throughout your home by cleaning furniture that is jam-packed with allergens, some of which include dust mites, pet dander, and pollen.
Get a Free Estimate Today!
Professional furniture upholstery cleaning services from our company are affordable, reliable, and proven to be effective. Before scheduling an appointment for our services, one of our technicians can come out to your location around Maricopa County in Phoenix, AZ for a free estimate. They will assess and review areas that require cleaning so that you are fully aware of our plan of action. Get started today by calling us directly or by filling out our contact form.